Sree Narayana Vidya Bhavan building is located in its own premises with spacious class rooms, proper lighting, ventilation and all basic amenities and facilities.
The teaching staff are professionally well qualified, motivated and dedicated in achieving concept based teaching and ensuring the overall personality development of all the students. Extensive use of Audio Visual Teaching Aids including internet and 3D Visualisation through Smart Class are used to make Teaching-Learning process interesting.
The school is proud of its well stocked library having books in every discipline for all levels. It has fully equipped labs for Science, Mathematics and Social Science apart from a Computer Lab to make learning more effective and enjoyable for the young students.
The School has excellent provision for moral and spiritual learning including Meditation, Yoga, Physical Education and Karate. To enhance and motivate the young minds there are debates, public speaking, creative writing, quizzing, field trips, excursion etc. it goes a long way to improve their communication skills and build confidence. Students are encouraged to take part in inter-house competitions in our school and also participate in inter-school competitions.
The school organises regular medical check-up of all students by a panel of eminent doctors, apart from health awareness programmes in the school.
Regular parent-teacher meetings and counselling sessions are undertaken where various developmental aspects of the pupils are discussed for the betterment of each child.
It is our mission to see every child who comes into the portals of our school gets quality education so that he/she grows to achieve proficiency and confidence to face the challenges in today's competitive world.
Every the starts and ends with prayers.
GURUDHYANAM
Om gururbrahma gururvishnu
Gururdevo maheshwara
Gurussakshat param brahma
Thasmai sree gurave namaha
Saraswati Vandana Mantra
Saraswathi Nama Stubhyam
Varade Kama Roopini
Vidyarambham Karishyami
Siddhirbhavatu Mesada
Padma Patra Visalakshi
Padma Kesara Varnini
Nityam Padmalaya Devi
Samam Paatu Saraswati
GURU SHATKAM
Om brahmane moorthimate
Sreethaanaam shuddhihetave
Narayana yatheendraya
Thasmai sree gurave namaha:
Namo bhagavate nittya
Shuddha muktha mahatmane
Narayana yatheendraya
Thasmai sree gurave namaha:
Mahaneeya charitraya
Mamataa rahithatmane
Narayana Yatheendraya
Thasmai sree gurave namaha:
Shishiree kurvate shantai
Kadakshai shishya sanchyan
Brahma vidyaa kovidaya
Thasmai sree gurave namaha:
Vadinaam vadine vacham
Yamaanaam mouna bhajine
Sarva lokanu roopaya
Thasmai sree gurave namaha:
Yassiana: kalpate siddhai
Padambhuja rajolava
Narayana Yatheendraya
Thasmai sree gurave namaha:
Prayer after class
O God, infinite wisdom and the source of all knowledge, grant that we may remember what we have learnt. We offer you our work and endeavours, our failures and successes. Forgive us our short comings and give us the courage, to follow always, the path of truth.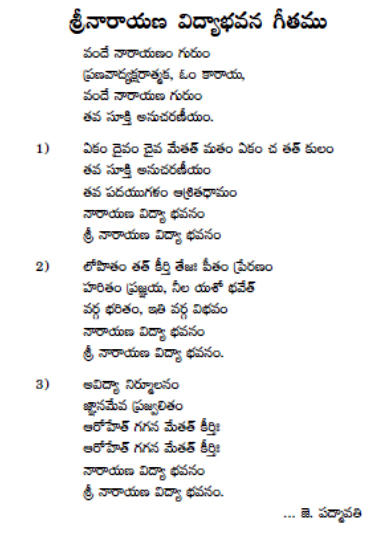 School Timings
Monday to Saturday    : – 08:30 AM to 12: 25 PM
                                                  01: 00 PM to 03: 45 PM
Office Hours                    : – 08:30 AM to 03: 45 PM
Admissions
a. Registration forms are available in the school office from February onwards.
b. Registration form duly filled up by the parent or guardian along with the Certificate of Date of Birth and two pass-port size photographs should be submitted for seeking admission to any class.
c. The Date of Birth Certificate should have been issued by a competent authority.
d. Admissions are open from February onwards for the next academic year.
e. Admission Fees and all other fees required must be paid at the time of admission
f. Candidates seeking admission to class VI onwards must produce a valid TC (Transfer Certificate) from the recognized school where he/she has studied previously.
The Academic Year
The academic schedule decided by the government of Telangana is strictly followed from June to April
Curriculum
A. Integrated curriculum of T.S. Education Department is followed.
B. Students are prepared for the SSC (Secondary school certificate) Public Exam held by the Department of Education, Telangana.
C. The Medium of instruction is English. Hindi and Telugu are taught either as I Language or II Language.
D. I and II Language start from class I.
School Uniform
The students should wear.
a) On week days – nursery to VI
i. For Girls.
1. Checked blouse with collar
2. Brown Tunic
3. Brown Belt and Red Tie.
4. Brown Socks and Black Shoe
5. Black Ribbons for hair.
ii. For Boys.
1. Checked shirt (with pocket) and Red Tie.
2. Brown Nicker and Brown Belt.
3. Brown Socks and Black Shoes.
On weekdays – VII to X Class
a) For Girls
1. Checked Blouse with Collar.
2. Brown Tunic.
3. Brown Belt and Red Tie.
4. Brown Tights.
5. Brown Socks and Black Shoes.
6. Black Ribbons for hair.
b) For Boys
1. Checked Shirt and Red Tie (with pocket).
2. Brown Pant and Brown Belt.
3. Brown Socks and Black Shoes with Black Lace.
c) On Saturday
For Pre-Primary classes
1. White Blouse /Shirt (half sleeves).
2. White Divided Skirt/Shorts.
3. While Nylon Socks.
4. White Canvas Shoes.
5. While Ribbons for girls.
6. For 1st to 10th class house wise colour T Shirts and Items 2 to 5.
7. The Belt, Tie and I.D. Card compulsory on all days.
8. The boys of classes Vll to X shall wear long pants (trousers).
House System: To facilitate healthy competition and co-operation among students, the entire school is divided into four houses.
Houses:
1) APJ Abdul Kalam (Blue)
2) C. V. Raman (Green)
3) S. C. Bose (Red)
4) Mahatma Gandhi (Yellow)
All competitions are held on Inter-House basis. The House scoring the highest point will be awarded the championship shield
Students Council:
In order to provide scope for democratic leadership and Citizenship training the school selects / elects boys and girls from among the students to form the School Council. The Captains will be from class X and the Vice-Captains from class IX. They are provided opportunities to lead student community in co curricular activities including games.
Activities in SNVB.
To enable students to develop their latent talents and interests, the following clubs functions periodically.
Literacy Association: This is for promoting literary activities of various types suited to all classes e.g. Debates, Speeches, Essay writing, Elocution and Recitation contest. Students from classes VII to X are enrolled as members.
NGC – (National green Corp): To create awareness for a cleaner and greener society. Talks, Plays, Seminars, Visits and activities to promote environmental protection and preservation are taken up. Students from V to the X class are enrolled as members.
NIE: (Newspaper in Education) Promotes learning through fun and learning for life. Use of newspaper for developing language skills, workshops by consultants, competitions for literary and cultural growth is aimed. Students from V to X are members of this club.
Science Club: The aim of this club is to update with the information of the subject and develop scientific temper in them. It also prepares the students for science fairs and exhibitions. Students from VI to X are its members.
General Knowledge Club: It prepares the students to participate in G.K Quiz competitions both at the Inter – House and Inter-School levels. The activities of the clubs will create interest in current events local, state, national and international.
Computer Club: This Club aims at making the students' computer savvy. It prepares them to face the technological development and keep themselves updated with the advanced Information Technology.
Maths Club: This club aims at developing logical skills through various activities. It builds confidence and discipline in the students.
Sports: Most of the major games such as Volleyball, Cricket, Kabaddi, Kho-Kho, Throw Ball, Foot ball etc are taught from IV to X.
Karate and Dances are two areas focused weekly on Saturdays. Karate is made compulsory for both boys and girls from class III onwards.
Excursions and picnics: Students from the Preprimary to the X class are taken on educational trips to places of interest.